I'm Inside, Ring The Bell
The South London Women Artists are proud to invite you celebrate International Women's Day at 47/49 Tanner St.
We present a collaborative interpretation of Judy Chicago's The Dinner Party to honour 1038 women of importance to us.
Join us for an evening viewing and drinks on
Saturday 16 March 5 – 8pm.
15,16 & 17 March 2013 - 11am till 6pm
Judy Chicago's 'The Dinner Party' (1979) brings to attention a female perspective of history. Chicago's vision was to provide a visual inspiration to women's achievement.
'The truth is that for centuries women have struggled to be heard, writing books, making art and music and challenging the many restrictions on women's lives.
But their achievements have been repeatedly written out of history'*

Inspired by Chicago's seminal art work the South London Women Artists host I'm Inside, Ring The Bell in tribute to Judy Chicago's aim. Bringing together our members creatively we draw attention to the women who mentor, influence and shape our creative practices and lives. It is the perfect setting for SLWA to reflect upon our influences and roles as artists for 2013's International Women's Day.
39 artists have been invited to each choose a woman who has a personal resonance for them and to bring them to the table. Like the original, our installation honours women's historical, mythical, scientific, and creative achievements in numerous media including paint, photography, ceramics, china painting and needlework. Each artist has individually created their place at the table to describe the woman they chose and has also contributed to collating 999 names for our 'Heritage Floor'.
'The macho art world has ignored the contribution of women'* - Many of the motivations behind Judy Chicago's 'The Dinner Party' are still active today; women make up the higher percentage of art school graduates but get the lower percentage of gallery exposure and art market prices. Often artists struggle to find the balance between creating, caring and earning, while their art careers depends upon networking, marketing and exposure. So we use our SLWA women's collective community to provide a support network for exhibiting together, learning from one another and providing artistic opportunities.
We thank Judy Chicago for her inspiration, resilience and energy, and 'The Dinner Party' for providing a curatorial framework that has allowed us to devise and create this exhibition. We hope the South London Women Artists' choice of guests will provide you with food for thought, to entertain, emulate or empathise with and bring a new audience to Chicago's original piece and it's guests.
The contributing South London Women Artists are:
Anne Lynch, Beata Kozlowska, Bula Agbo, Caroline Underwood, Carol Misch, Carole Murphy, Chrissy Thirlaway, Edori Fertig, Gin Dunscombe, Ilinca Cantacuzino, Izzi Ramsey, Jane Higginbottom, Joan Eytle Kendall, Julie Bennett, Jackie Brown, Jennie Merrell, Karin Dahlbacka, Kate Bowe, Kim Thornton, Kate Redfern, Laura Moreton-Griffiths, Leonie Cronin, Liz Charsley-Jory, Lucy Bainbridge, Lucy Soni, Lucy Duke, Lesley O'Mara, Marcia Bennett Male, Marnie Pitts, Melissa Budasz, Moira Jarvis, Pat Cove, Pia Randall-Goddard, Paola Minekov, Robina Doxi, Paula Stevens-Hoare, Susan Wood and Virrgo


* References from The Brooklyn Musuem and www.judychicago.com
'The Dinner Party' is on permanent display in the Elizabeth A. Sackler Center for Feminist Art, Brooklyn Museum.


Join us for a special evening viewing and drinks on Saturday 16 March 5–8pm.
The exhibition is part of the weekend festival of events programmed specially for International Women's Day weekend at 47/49 Tanner Street, London SE1 3PL

For further details: www.4749tannerstreet.com

3 DAY SLWA EXHIBITION Fri 15, Sat 16, Sun 17 March 11am till 6pm
'I'm Inside, Ring The Bell'
(Free admission)
New collaborative work celebrating women of importance, and a contemporary interpretation of Judy Chicago's The Dinner Party.

* * * * * * *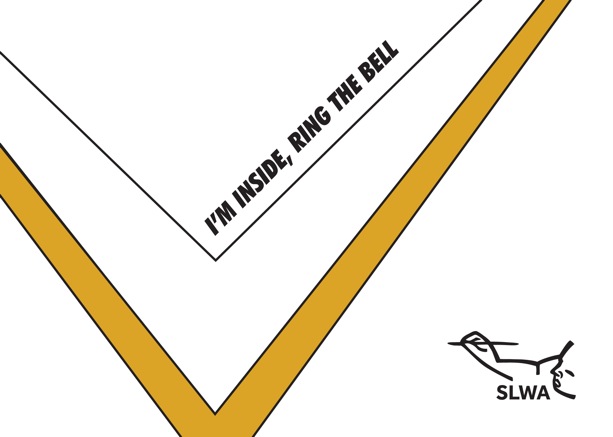 I'm Inside, Ring The Bell refers to an inside presence always there, always available.
For more information please visit:
www.southlondonwomenartists.co.uk
or email
Twitter
https://twitter.com/SLWArtists
Facebook

https://www.facebook.com/southlondonwomenartists




FRIDAY (COMEDY NIGHT) 15 March 2013 Doors 7.30pm,
Start time 8.30pm
'Women Laughing With Salad'
Five rising comedians for only £10. Book Online: https://www.ticketweb.co.uk/event/44843
(All proceeds go to Rape Crisis South London).

A ridiculously interesting bunch of comics get together for this exclusive, one-off gig at the 47/49 warehouse.
Featuring Cariad Lloyd, Dana Alexander, Ariadne the Greek WAG, musical comedy duo That Pair…oh, and a token male, Jamie Demetriou.

'A gift from the comedy gods' (4 stars) The Herald on Dana Alexander
'Character comedy at its best' (5 stars) EdFest Magazine on Cariad Lloyd
'Like being beaten up with a stick of funny' (4 stars) Broadway Baby on Jamie Demetriou
'More entertaining than 1000 issues of Heat magazine' (4 stars) Metro on Alyssa Kyria
'Sheer delight and as smooth as ten denier tights' (5 stars) Broadway Baby on That Pair

* * * * * * *

SATURDAY (PERFORMANCE NIGHT) 16 March 2013
Doors open at 7pm.
'The Alchemy Of The Purple Ladies'
Tickets: £8 adults / £5 concessions and purple outfits

A multidisciplinary arts event from the Purple Ladies Collective, bringing together physical and visual performances and an interactive live installation.


View www.southlondonwomenartists.co.uk A unique online portfolio of talented artists.
TENDER

Private View Invitation for Tuesday 5th March, 6-8 pm

South London Women Artists group show at The Stephen Lawrence Centre
39 Brookmill Road, London SE8 4HU

Show duration: 4-28 March 2013

Tender: 'A vessel employed to attend other vessels, to supply them with provisions and other stores, to convey intelligence, or the like'.
SLWA is proud to exhibit at the award-winning centre during the Stephen Lawrence Centre Women's Week. Specially commissioned works on paper will be on show and all works are for sale for £50.00 with 50% of the sales revenue to be donated to the Stephen Lawrence Charitable Trust. The exhibition is in the drop-in gallery located in the foyer, during the centre's regular opening hours.

An entire week's activities are programmed to take place 4-8 March. Doreen Lawrence has extended a personal invitation to everyone to attend the free events, including workshops, pampering sessions, lectures, advice sessions and the Women's Awards 2013.

To donate to the Stephen Lawrence Charitable Trust text the word 'SLCT20' followed by the amount e.g. 'SLCT20 £10' to 70070.
For more information please go to www.stephenlawrence.org.uk/womens-week-2013
For press enquiries, please contact SLWA direct by emailing: press@slwa.co.uk At One Time: The Legacy of G.M.
Cantacuzino Opening Wednesday 17 October, 6.30 - 8.30pm A Dialogue through art between the legendary Romanian architect and writer George Matei Cantacuzino (1899-1960), and his British-born granddaughter Ilinca Cantacuzino, in a poignant exhibition about love, legacy and inspiration Romanian Cultural Institute, 1 Belgrave Square, SW1X 8PH 17/10 - 22/11/2012 @ Institutul Cultural Român
Free entry, Monday - Friday 10am - 5pm
Weekends by appointment
e: office@icr-london.co.uk
Phone 0207 752 0134 or 07976 910 051